On the benefits of growing your own soft fruit and my choice of plants for the new 2019 Fruit Garden. Scroll down for pictures if you just want to see what I'm growing!
If you've been following me on Instagram lately you'd know that one of my main goals for the allotment this year is to install a Fruit Garden.
Yes that sounds a bit fancy doesn't it! Let me explain what I mean. My allotment is made up of two long rectangles, as it's technically two plots; Plot 6 and 9. Plot 6 is cut in half to make a pumpkin patch and a second area, of which half is meant to vary each year but in all honestly is usually courgettes, and half is one bed of my four bed rotation. Plot 9 holds the other three beds of the rotation, and another wild bed at the back, which until now I referred to as my 'Weedy End'.
Ah the Weedy End. We all have one. That area which is a little more neglected than the rest, probably houses the compost heap, and a whole host of other things which don't really have a home, yes I'll just pop them there for now… Dealing with the Weedy End has been on my list of Allotment Projects for a while, and since it came with a raspberry fence when I inherited the plot the natural choice was to use the whole bed to grow fruit!
WHY GROW SOFT FRUIT
There's loads of benefits to growing your own soft fruit. Let's face it, the price of the shop bought stuff is extortionate and provenance questionable at best. Think of the air miles! I just googled "Tesco raspberries" to prove my point and it said "Product of: United Kingdom,Republic of Ireland,Kenya,Mexico,Morocco,Portugal,South Africa,Spain,USA,Zimbabwe". Yeouch. Those air miles would cost you £2 for 150g and the price would be even more if you want organic – £3.59/200g from Waitrose. Not many of us can afford £3.59 for one item of our weekly shop, so as I'm keen advocate of eating organic as far as possible I would just not buy those raspberries, despite the many proven health benefits of eating berries. Lastly for excellent reasons to grow your own fruit, have you ever eaten a homegrown strawberry? It puts the watery, tasteless, crunchily-underripe shop bought ones to shame.
So it's much cheaper, much healthier and much tastier to grow your own soft fruit and that's why I've dedicated a whole bed to it this year.
HOW TO DRAW UP YOUR FRUIT GARDEN PLANS
I began the process by measuring the bed and drawing a scaled plan of my Fruit Garden. I then researched the varieties of fruit available from popular online growers such as Suttons and Thompson and Morgan –  I ended up sourcing most of my fruit plants from Thompson and Morgan after I got in touch and they kindly agreed to gift some plants to me. I drew out scaled circles based on the spread of each plant I liked the look of, and I made sure to include circles for the few plants I already had or had inherited on my plot. Then I tried these out for size on my scaled plan, moving them around to see how they best fit. Of course you can probably do this much quicker digitally, but I prefer the tactile nature of good old fashioned pen and paper. It was worth taking the time as I found that not every plant I wanted could fit, and I had to make some tough choices for what made the final cut.
Below I am going to walk you briefly through my fruit choices in the hope of sparking your imagination – I've linked my final selections so you can click through and view them for yourselves but there's plenty of choice out there so do go and do your own research!
STRAWBERRY, 'CAMBRIDGE FAVOURITE', 12 x bare roots
It wo
uldn't be a fruit garden without a big bed of strawberries! I chose Cambridge Favourite for the promise of good flavour and it being well suited to growing in containers. I'm planting mine into two raised beds which will form a kind of mini rotation system (strawberry plants last around 3 years after which time you should replace them, but don't worry, they produce their own 'runners' or baby plants for subsequent years so you won't go short!
RASPBERRIES, 'GLEN AMPLE' 6 x canes & 'POLKA' 6 x canes
Raspberries come in two types, summer and autumn fruiting. I've picked one of each type to extend my raspberry season! Glen Ample is summer fruiting and crops from late June to July and Polka is autumn fruiting and crops from July to October – by which time I'll look like a raspberry, having eaten so many! I just love picking them straight off the plant. Both of these will produce their best yields 16-20 months after being planted but I'm expecting my first crop within 4-8 months.
GOOSEBERRY, 'HINNONMAKI YELLOW', 1 x bare root
I knew I wanted to add gooseberries to my line up for their marvellous culinary possibilities and I was fascinated by the description of this one having a 'delicious aromatic flavour with a hint of apricot'. Aside from the classic gooseberry fools, jams, pies and ice creams I can see myself making a fabulous infused liqueur from this. I can almost hear the chinking of summer glasses! I have a second gooseberry plant gifted to me by my friend Floor (thanks, Floor!) which is a red variety, so I will compare the flavour of this apricot-tinted one with a 'normal' gooseberry flavour and get back to you with the results.
"What's a Jostaberry??" I hear you cry. Well, dear Reader, it's a cross between a gooseberry and blackcurrant. I have never eaten one but I'm told they taste like large blackcurrants and are high in Vitamin C. Blackcurrant is my currant (haha) favourite flavour of jam, I just love the tartness of it! So although I've never eaten these I'm very sure I will like them. The bushes are thornless and grow
to 2 metres tall, but they are self-fertile so you don't need
to plant more than one of them to get a good crop.
As mentioned, blackcurrant is my favourite flavour of jam. It's tart, interesting and absolutely delicious, so I knew that blackcurrants were a must for my Fruit Garden. Ben Connan is a small bush variety with a spread of 1.2m but despite that is heavy cropping and I should be greedily guzzling blackcurrants within 4-8 months! Hopefully some will make it home and into jam. In subsequent years once established this mighty little bush should produce 3.5kg of fruit per season! I also have another blackcurrant plant 'Öjebyn' (a popular Swedish commercial variety) which I bought from Poundland several years ago! I'm hope that this year it will give me its first real crop of fruits.
REDCURRANT, 'ROVADA', 1 x 3 litre pot
Redcurrants look like clusters of little jewels and are described as perfect for freezing (or preserves of course, if you can remember Meg from Little Women and her infamous redcurrent jelly!). I'm looking forward to learning more about pruning when it comes to this particular plant – redcurrants form fruit on second year wood so I will need to be extra careful! I'm planning to write a follow up blog with hints and tips on pruning so don't let this put you off of choosing a redcurrant if you're unsure about pruning.
I wasn't going to include blackberries as I know several places locally where I can go out and forage a basketfull. And then I saw these! Look at these big juicy bad boys! They're almost double the length of a normal blackberry. I couldn't resist, the lure of the allotment apple and blackberry pie was too strong! Apple pie is a firm favourite in our household so I'll be sure to post the recipe for that this autumn. These blackberries have a spread of 2.5m and do require training along posts (think the same sort of wired posts you might use to support raspberries). Very excited for these.
GOJI BERRIES, B&Q
A well known superfood, I already had two goji berry plants which I bought in the sale for 50p each from B&Q two years ago. They were tiny plants, twigs almost, I wasn't sure they would make it. And I certainly didn't do my research, because if I had I would have realised that goji berry plants spread up to 2m wide! I only had room in my Fruit Garden for one, so the other will be staying in a pot at home for patio snacking. I've only ever eaten goji berries dried before so I'm looking forward to finding out how they taste fresh as well as experimenting with other uses for them!
BLUEBERRY, 'PINK FLAMINGO', 1 x 9cm potted plant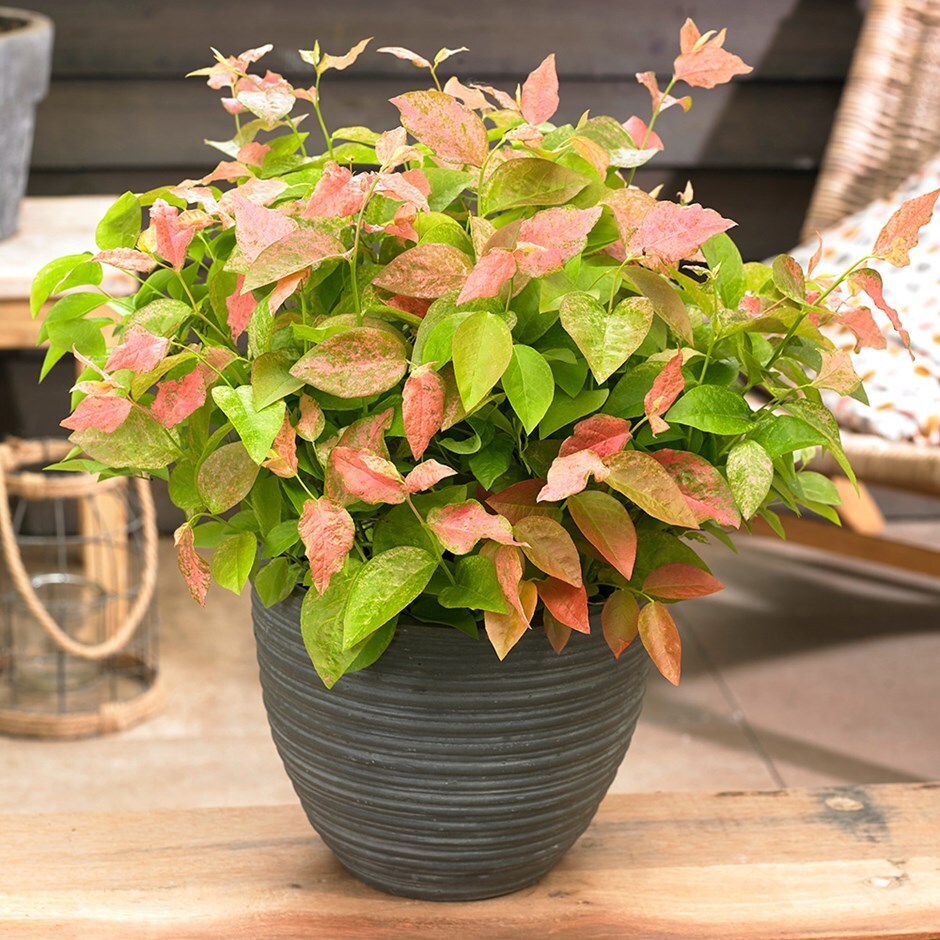 Lastly, blueberries! I have one very neglected blueberry which is in need of a good prune, and I had always planned to get another blueberry plant as yields of the berries increase if you plant more than one blueberry bush near to each other. I'm a sucker for pink and for variegated leaves so I selected Pink Flamingo as it has BOTH. Pink, variegated, superfood….I'm sold. I've deliberately chosen to plant this bush where it will be most visible so I can view my pink variegation with pride when sat on my little pond bench. I will most likely eat all my blueberries fresh off the plant rather than cook with them but I may attempt a blueberry breakfast muffin or two!
So there you have it! I hope this inspires you to have a go yourself, let me know in the comments below if you are planning your own fruit garden this year and which varieties you intend to plant! I'll do a follow up blog shortly on how to plant the above so don't forget to check back in for that.
Happy growing!
Bryony x